Over my 'adult' life (aka from 18 on for the sake of this blog) I have gotten many a chance to stumble out on adventures. From Small weekend jaunts to the
Arctic Circle
, Oklahoma Chicago, and Asheville, to a month in
Hawaii
, Music Festivals (
Bonnaroo
and VooDoo Music Fest in New Orleans), moving up to
Alaska
, down to
Minneapolis
, and Back to Alaska again! (Psst. I swear I am not braggin', I am truly a lucky lucky gal, who has made some not-so-financially smart moves. Regret though? Nah, not my style.
So what adventure am I going to share this go around? One of the Glorious weekend adventures that I have planned spur of the moment, and am lucky enough to have friends who are just as spur of the moment as me: A 3-day trip in September 2011 to Juneau, Alaska.
Before my departure from Alaska in October 2011, I knew I needed one last minute trip in Alaska, being that I had never been anywhere in the Southeast. Lucky me, I had one of my best friends living on a boat in Juneau with her then boyfriend/now husband, and a boyfriend who was willing to figure out a way for us to use air miles and money to get down there. As Nick (the boyfriend) and I were figuring out logistics, I mentioned our planned trip to two other friends (Don and Glenna) who quickly hopped on board. After a very drunken EARLY morning plane ride (and no sleep the night leading up to it) for Nick, Glenna and I (how we got through security... *shrugs* ) we were in for a very hung over next day, in the rain. But, Man I was with all the people I loved for a weekend, and I could not have asked for better company.
The best part of all of us going together? There would be 6 people and 2 animals crammed for a weekend on a small (Yeah, I have no idea what size actually...) but, lets just say SMALL boat.
You may ask, what did we do in Juneau? Well... we wondered around. And we got kicked out of the childrens' section of the library. And then went to the Museum and took over the kids section. And ended with going to the pizza/arcade restaurant Bullwinkles...where we scared all the families away. I swear families, we are not heathens, we hold respectable jobs, and have homes. Our outer appearances usually do not reflect this fact though.
Top: Silly hats in the Museum. Bottom: Glenna sleeps on benches at Bullwinkles. Can you spot her?
Oh yeah, we also went to bars, beaches, and abandoned areas. Man, friends are cool.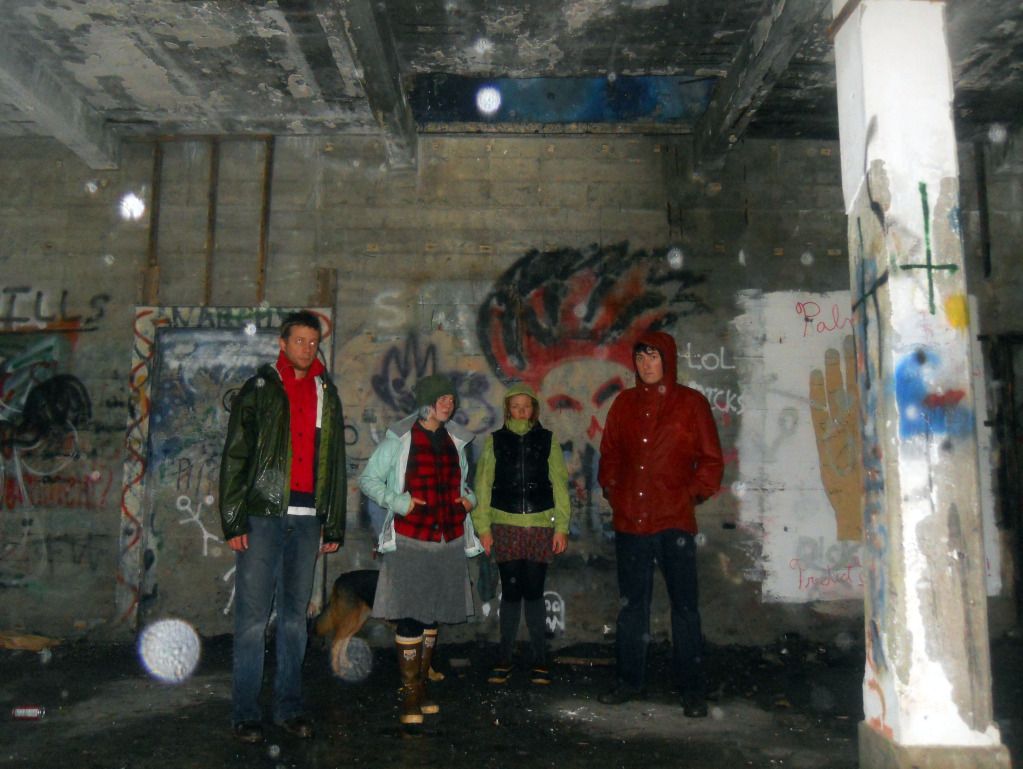 Top R: We're all models at The Alaskan; Top L: I LOVE Abandoned buildings. A lot. Bottom: Nick and I on the Sandy Beach in Juneau. Exactly what you think about when you think 'Beaches' right?!