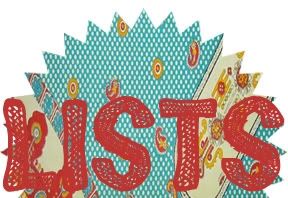 Here we are y'all, the second installment of my top 50 favorite albums. While putting these posts together, I have to say that each ten albums I tackled took longer and longer, as I wanted to just sit and listen to the entire album, and I had more than a handful of memories to associate with each record. I tried not to get too verbose, but sometimes I just can't help myself...
31-40
40. No Doubt-Return of Saturn
I have found that I am a fan of the sophomore albums. I have at least 5 definitive sophomore albums on this list, and I'm sure there is some murky areas where more of these might count as a second go round. (and before some of you grumble, I know that TECHNICALLY No Doubt had records before Tragic Kingdom, so this wouldnt be a sophomore album, but by music industry standards, this is totally their sophomore album). Now, a lot of you might think I am crazy for liking 'Return of Saturn' more than 'Tragic Kingdom' but, alas I stand by my assessment. 'Return of Saturn' was and still is, a fun record. It's a little darker than 'Tragic Kingdom', and I truly enjoy the creepy undertones wrapped in a pop candy shell. What that says about me...well, it's all true.
New
,
Bathwater
,
Staring Problem
39. Talking Heads- Speaking in Tongues
I had a friend in college who would watch the Talking Heads Live concert DVD 'Stop Making Sense' what seemed like every weekend. It was more realistically once a month, but still. I can't remember the first time I saw 'Stop Making Sense' but I do remember walking in, sitting down, and reliving and sharing the experience over and over with him. Since the concert DVD would break my 'no compilation' rule (sorta) I decided to go with Speaking in Tongues. Really, I could have went with 'Little Creatures' just as easily, but that just means you should listen to the entire catalog and prepare to dance around your kitchen.
Burning Down the House
,
Girlfriend is Better
,
This Must be the Place
ALSO: Get into the David Byrne & St. Vincent collaboration. It's fucking awesome.
38. Elton John-Honky Chateau
I grew up in a household where Elton John was played a good deal. My dad would sing along to every song, and on car trips he would hit the dashboard to the beat and once in a while stop and tell me to 'listen to the lyrics. Just listen to the entire song'. As I grew older, this particular album became the one I clung to, learning every track myself, and eventually purchasing the CD for my own collection.
Mellow
,
Susie (dramas)
,
Mona Lisas and Mad Hatters
37. Glen Hansard- Rhythm and Repose
If I was doing a list of the best concerts I have ever had the privilege of attending, Glen Hasard would be #1. The First time I ever saw him live was in 2008 at Bonnaroo, when he was still playing and touring with Markéta Irglová as 'The Swell Season', based off the success of the movie 'Once'. (Side note, the Once Soundtrack is kind of a grey area in that it IS a soundtrack, but it could also technically be considered The Swell Seasons First album...I left it off because of that greyness). Any way, The second time I saw Glen was this past June (2013) once again at Bonnaroo. Both shows, separated by 6 years time, were awe-inspiring. Mr. Hansard is an amazing musician, and though I watched both shows by myself, I have never felt more surrounded by love in a crowd.
You Will Become
,
Maybe Not Tonight
,
Bird of Sorrow.
36. Radiohead --OK Computer
I don't think I mentioned in my introduction, but I only let myself pick ONE album from a group or artist. As it is with most any artist you enjoy, you usually enjoy more than one singular album. There were multiple times when I had it narrowed down to two album by an artist/group and had to sit and listen to them both as a whole, and decide which one. Radiohead is no exception. It was down to OK computer (the winner!) and Hail to the Thief. The overall dilemma can boil down to the fact that my favorite Radiohead song, 'There, There', (and a a few other top 5's) are all on Hail to the Thief, but in a straight listen, OK Computer is just a more cohesive, better listen. The hard decisions I encounter on a daily basis guys. (Side note, when it comes to memories associated with a Radiohead album, a third album 'In Rainbows' definitely wins. It quickly brings me back to the year I lived on Columbia, SC and closing up a small coffee shop with this super hipster youngin' and how it was the one album that we could agree on and blast to get through all our closing activities.
OH NOSTALGIA
).
Paranoid Android
,
No Surprises
,
The Tourist
35. George Harrison-All Things Must Pass
George Harrison is my favorite Beatle. I'd say he was my favorite Beatle before I knew who The Beatles were, or that I could have a favorite. When I was young I used to get REALLY excited every time the video for 'I've got my mind set on you' came on MTV, and would dance and spin on the coffee table. As I got older, 'discovered' The Beatles, and then eventually discovered this solo Album of George's, I just fell more and more in love. 'My Sweet Lord' never fails to make me happy (and I have blasted it from many an office to the dismay of coworkers). 'What is Life' is the song I want played at my funeral (yes, I've thought of this). I have read biographies, and biographies of lovers. I have watched the concert for Bangladesh and the Concert for George numerous times. I remember being in my parents bedroom in South Carolina and watching the television as reports of his passing were on every channel. I could go on...This was definitely the hardest one yet to simply pick three songs as my favorite! I included the video below, because I love Ben Sollee, and who doesn't love when some of your favorite artists cover some of your other favorite artists? I Dig Love,
My Sweet Lord
,
What is Life
.
34. Joni Mitchell-Blue
I grew up hearing Joni Mitchell around the house from time to time. Admittedly, I didn't understand the appeal for a bit. As I mentioned before, I am not really big on female voices, and at first listen, Joni was some whispy voiced hippie chick. What changed my mind? Mostly age, honestly. I still have to be in the right mood for Joni, but when I am, nothing else works. As far as memory association goes, the year before I moved to Alaska, I met some of the most important people in my life while living in Columbia, SC. One afternoon I helped paint the house two of my friends were renting out, and we listened to the entirety of 'Blue'. To be laughing, painting, and singing along with these two guys just made for a great afternoon.
Case of You
,
California
,
River
33. Elliot Smith- Figure 8
I was one of those that had their first interaction with Elliot Smith via Good Will Hunting and its soundtrack. (Spoiler: Good Will Hunting is my favorite movie of all time, so I guess I can scratch that top 50 favorite movie list now...). 'Say Yes' and 'Miss Misery' still hit a spot within me when I hear them, but as far as a whole album goes, Figure 8 is the winner. Really though, do yourself a favor, and go pick up any of Smith's Albums.
Somebody that I Used to Know
,
In the Lost and Found (honky bach)
,
Pretty Mary K
32.Kind of Like Spitting- Learn: The Songs of Phil Ochs
KOLS was introduced to me while I was in college, and quickly became a pretty consistent soundtrack to my life at the time. The album that means the most to me though, is one in which Songs of famous singer/songwriter Phil Ochs are covered. I very vividly remember being on a road trip (per usual) and my friend putting on one of the tracks from this album because he knew I'd love it ( "It's like that Bob Dylan Shit you like, but you know, tolerable"). The album should be listened to in its entirety, and since youtube cannot provide that for me, I will embed a Spotify playlist for you instead.
You're welcome
.
31. Damien Rice- O
I think if you looked back over the past 10 years, I can easily say that I have fallen asleep to songs from this album, in some form, 65% of the time. I have cried while in a car listening to this album. I have associated it with the emotion in the movie 'Closer' (as Rice's music feature prominently in the
excellent
2004 movie). I have sung it in happiness, and switched what I have claimed as my favorite song on the album more times than I can count.
Older Chests
,
Amie
,
Cheers Darlin'